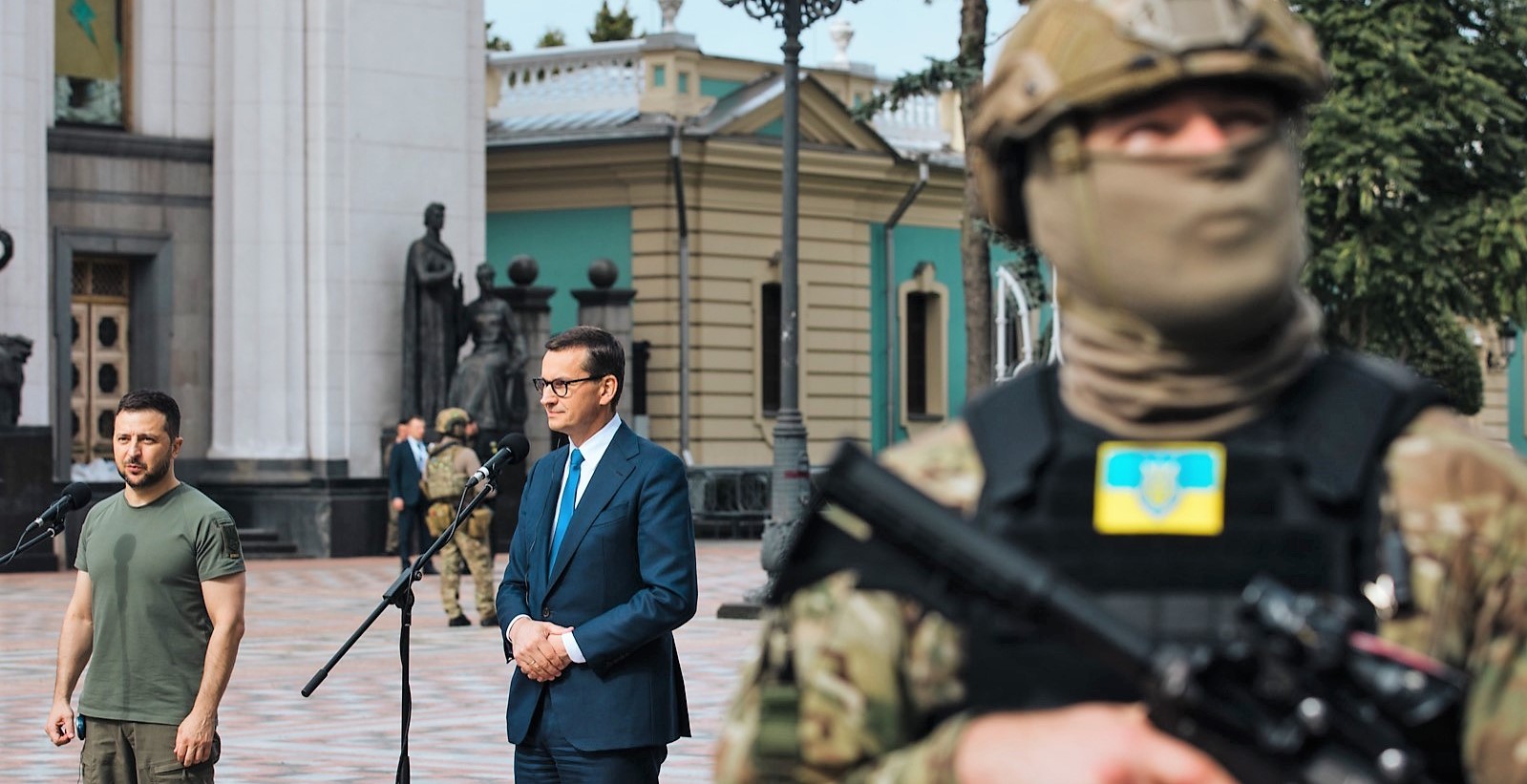 "If Ukraine depended on Germany for its defense, it would no longer exist", says Polish PM
In an interview with Germany The SpiegelPolish Prime Minister Mateusz Morawiecki criticized Berlin's response to the Russian war in Ukraine, saying Ukraine "would no longer exist" if it had been dependent on Germany for its defence.
Morawiecki warned that "Berlin's inaction seriously calls into question the value of the alliance with Germany", whose energy policies "have inflicted enormous damage on Europe". He also reiterated his government's recent demand for war reparations from Berlin and claimed that EU rule of law concerns are designed to "weaken Poland".
While the Polish government has been among Ukraine's staunchest supporters, by contrast, Germany's stance has been "very disappointing", Morawiecki said. The Spiegel.
"Berlin's hesitation, its inaction, seriously calls into question the value of the alliance with Germany," he warned. "And we're not the only ones saying that. I hear that from quite a few other heads of government in Europe as well.
The prime minister also criticized Berlin for ignoring long-standing warnings from Poland about its dependence on Russian energy, and in particular the Nord Stream 1 and 2 gas pipelines.
Polish government steps up anti-German rhetoric ahead of re-election
"The Germans have always been very conciliatory towards Moscow, kowtowing to Russia" while "patronizing the Poles". But "we were right, after all, with all our warnings about Russia" and now "our voice is clearly heard to a much higher degree" than before, Morawiecki said.
However, while it is now becoming "clear that German energy policy is in shambles", he added, this only happened after "German policies inflicted enormous damage on the Europa".
"The Ukraine crisis has shown that the best guarantor of security is the United States," Morawiecki continued. "If Ukraine were dependent on Germany as part of a European defense policy, it would no longer exist today."
Polish PM condemns 'absurd paradox' of EU 'punishing Poland and Russia'
The Polish prime minister also criticized the EU more generally, saying its financial support for Ukraine was being provided too slowly. Meanwhile, Brussels has frozen 35 billion euros in funds for Poland using "false arguments" that the rule of law is under threat.
"Our judicial reform does not undermine the rule of law in Poland, it restores it," Morawiecki said. "I see more of a problem with the rule of law in the EU institutions, because they presume to have the right to judge Poland's judicial reform, but they don't have that right under the EU Treaty."
A wide range of international experts and bodies have concluded that the Polish government's judicial policies constitute a violation of the rule of law and a threat to the independence of the judiciary. But Morawiecki said The Spiegel that EU action in this area is in fact partly aimed at "weakening Poland".
"Poland is a locomotive of development in Europe. We articulate the experiences and interests of countries that have experienced communism. We represent diversity in Europe, and diversity is a value in itself. Maybe our role is not to everyone's taste," he explained.
Poland "has no reason to fulfill its obligations to the EU" because Brussels broke the agreements, says Kaczyński.

He warned that there is a 'German-Russian plan to rule Europe' and that the opposition is working under 'foreign orders' to 'subjugate Poland' https://t.co/94S2sRaKXX

— Notes from Poland 🇵🇱 (@notesfrompoland) August 8, 2022
Finally, Morawiecki referred to his government's announcement earlier this month that it would seek about $1.3 trillion in war reparations from Germany.
"It's not such a fantastic sum," he argued. "The budget of the entire Federal Republic of Germany, i.e. the budget of the federal government together with that of the Länder, is almost as large."
"We want to hold talks in Berlin and also invite representatives of Israel, since half of the Polish victims were citizens of Jewish origin," Morawiecki explained. The government will also "go around the world to present the report" on the reparations that it published on September 1.
Poland will seek compensation for $1.3 trillion in war losses caused by Germany, the ruling party has announced.

Its president, Jarosław Kaczyński, also called on Israel to join Poland's claim, as Polish Jews made up a large portion of those killed https://t.co/xryB9sJZJ8

— Notes from Poland 🇵🇱 (@notesfrompoland) September 1, 2022
"It is possible that we will also submit our claims to international tribunals at a later stage," he added.
This week, German Chancellor Olaf Scholz reiterated Berlin's long-standing position that the issue of reparations for Poland was long settled because Warsaw had previously waived its claim for damages.
But Morawiecki explained that "we consider the legal analyzes of the Germans, according to which Poland waived reparations in an agreement with the GDR [East Germany] in 1953, to be wrong". This is because "the Soviet Union forced Poland to do so at the time…Moscow coerced its proxy in Warsaw".
The legal issues behind Poland's claim for war reparations from Germany
Main image credit: KPRM (under CC BY-NC-ND 3.0 PL)
Daniel Tilles is editor-in-chief of Notes from Poland. He has written about Polish affairs for a wide range of publications, including Foreign Police, POLITICO Europe, EUobserver and Dziennik Gazeta Prawna.