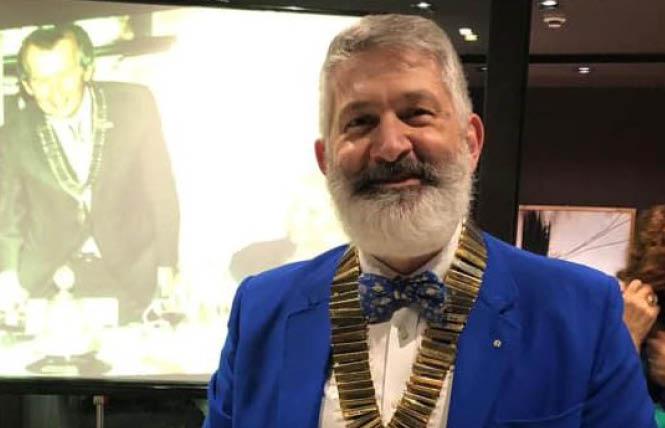 San Marino elects its first gay head of state
San Marino, the world's oldest republic, named the world's first gay head of state when Paolo Rondelli was named one of two captains regent.
Rondelli, 58, was inaugurated as one of the country's two highest elected officials at a ceremony on April 1. Oscar Mina, the other captain regent, was also inaugurated. Mina held the role in 2009.
The medieval city-state of San Marino sits near the eastern coast of Italy and is one of Europe's microstates.
LGBTQ allies Marta Cartabia, Italy's Justice Minister, and Italian Senator Monica Cirinnà attended the inauguration, Money Central reported.
Cirinnà praised Rondelli, a longtime LGBTQ activist and politician. Prior to his swearing in as Captain Regent, he served as a Member of Parliament for San Marino and Ambassador to the United States for nine years (2007-2016). Rondelli joined the San Marino parliament in 2019.
"It's a historic day, which fills me with joy and pride, because Paolo Rondelli will be the first head of state belonging to the LGBT+ community, not only in San Marino, but in the world," Cirinnà wrote on Facebook, calling him "a man of immense culture and diplomatic and political experience" who fought for LGBTQ and women's rights."
Rondelli and Minna will serve six-month terms.
The two men will be responsible for overseeing the country's parliament, called the Grand General Council, the State Congress, which is the current government, and the Judiciary Council of the XII. They will not vote and have no executive power, but will be able to veto.
Rondelli is the first openly gay head of state, but he is not the first LGBTQ head of government. Other LGBTQ heads of government include Icelandic Johanna Sigurdardottir, who served as the world's first prime minister in 2009; Lesbian Prime Minister of Serbia Ana Brnabic [LINK: https://www.ebar.com/news///247423], who was elected by the country's parliament to this position in 2017; and Luxembourg's gay Prime Minister Xavier Bettel.
The oldest republic in the world, San Marino is one of the last microstates in Europe. The third largest of the microstates, after Vatican City and Monaco, San Marino was founded in 301 AD. Other microstates include Andorra and Liechtenstein.
San Marino is a Roman Catholic nation and has a population of 35,000. It is aligned with European Union foreign policies but is not an EU member state
Homosexuality was decriminalized in 2004. Same-sex marriage was legalized in 2016.
Two men sentenced for the rape of a South African teenager
A South African regional court convicted and sentenced two men to life in prison on April 5 for the alleged correctional rape of a lesbian teenager outside her home.
On December 16, 2020, Getwin Moloto, 30, and Lebohang Makola, 35, of Saulsville kidnapped and raped a 19-year-old lesbian as she entered the gate of her home after "accompanying her partner", according to the national public prosecutor's office. The Authority's regional spokesperson, Lumka Mahanjana, reported The Citizen.
A third accomplice was not at the Atteridgeville Regional Court in Pretoria where the trial took place. It is not known if he was convicted.
On the night of the rape, Mahanjana told reporters that the two men and an unidentified third accomplice "grabbed her and took her to a shack where they raped her."
The cabin turned out to be Moloto's house.
Moloto kept asking her why she was "taking their wives" when he was raping her, Mahanjana said.
Makola allegedly continually asked the victim "to be his girlfriend" as he raped her.
The unidentified victim asked to go to the bathroom outside the cabin. The men allowed him to leave. As soon as she got to the door, she escaped and ran home, which was only three houses away.
She told her mother what had happened. The victim was taken to Laudium Thuthuzela care center for a medical examination, and the incident was reported to the police, Mahanjana said.
When the victim and his mother returned home, they found his underwear, which had been left in Moloto's cabin in their yard.
The victim recognized Moloto's voice, which also led to Makola's arrest and prosecution.
Prosecutor Paulina Mochaka told the court that the attackers were influenced by their anti-LGBTQ attitudes towards the victim's sexual orientation.
She further stated that Moloto was a neighbor and was supposed to protect young women in the neighborhood, but instead attacked them with his friends, The Citizen reported.
Mochaka asked the judge to impose the prescribed minimum sentence.
Attorney for Director of Public Prosecutions Sibongile Mzinyathi said hate crimes against the LGBTQ community will not be tolerated and will be prosecuted, The Citizen reported.
Pink News reported that rape rates are extremely high in South Africa with almost 10,000 cases between July and September 2021 alone.
Earlier this year, in a historic verdict, three men were found guilty by Worcester Regional Court of the 2017 kidnapping and gang-rape of a gay man in the Ceres area of ​​the Western Cape.
The judge was unable to include the improved sentence for a hate crime as the Preventing and Combating Hate Crime and Hate Speech Bill B9 of 2018 did not not yet adopted in South Africa. [LINK: chrome-extension://efaidnbmnnnibpcajpcglclefindmkaj/viewer.html?pdfurl=https%3A%2F%2Fwww.justice.gov.za%2Flegislation%2Fhcbill%2FB9-2018-HateCrimesBill.pdf&clen=106625&chunk=true]
The successful sentencing renewed calls for the bill to be passed, Pink News reported.
Ruth Maseko of the Triangle Project, who welcomed the verdict, told the Washington Blade: "People's attitudes have to change.
She said: "Sentences like these send a strong message that these crimes will not be tolerated.
Do you have any advice on international LGBTQ news? Call or email Heather Cassell at WhatsApp/Signal: 415-517-7239, or [email protected]
Help keep the Bay Area Reporter going during these difficult times. To support local, independent and LGBTQ journalism, consider become a member of the BAR.