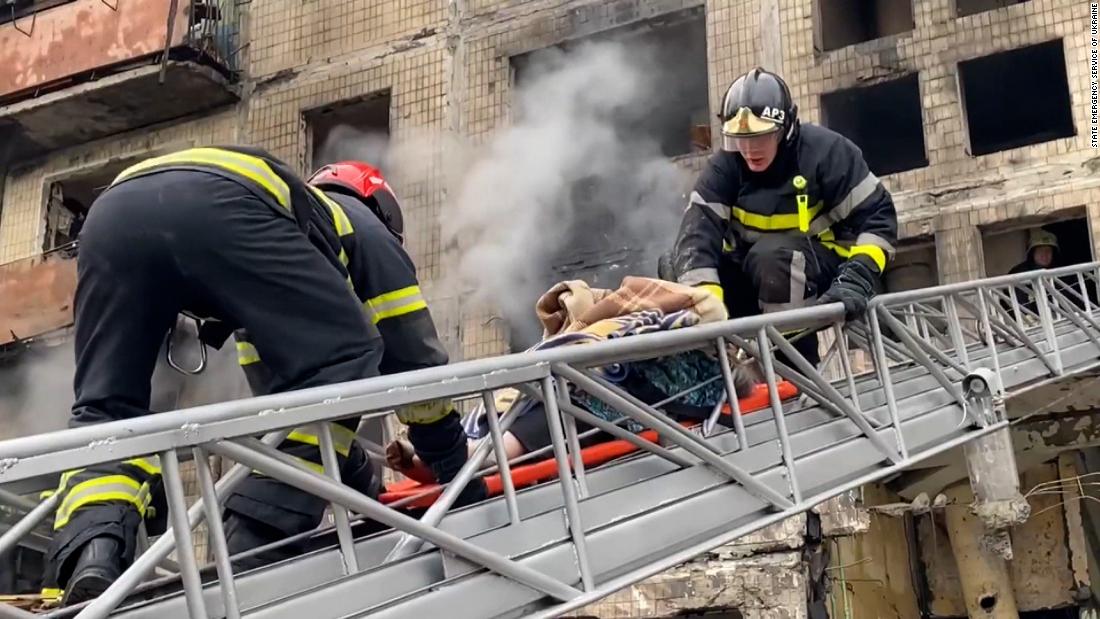 Live Updates: Russia invades Ukraine
Ukrainian President Volodymyr Zelensky criticized the effectiveness of NATO's Article 5 provision, calling it "weak", during a speech on Tuesday. His comments came as key cities in Ukraine, including around Kyiv and Mariupol, reported extensive damage and dire situations.
Here is an overview of the main developments that took place today:
On the ground: Deaths were reported after shelling hit buildings in residential areas of kyiv on Tuesday, Ukrainian authorities say and new satellite images show widespread destruction across Ukraine, including damaged homes in a village near from Kyiv.
In the besieged city of Mariupol, smoking houses could be seen, where more than 2,500 civilians died, Ukrainian officials estimate.
Captivity situation in Mariupol: A Ukrainian official accused Russian troops of holding people captive in a hospital in Mariupol on Tuesday.
Pavlo Kyrylenko, head of the Donetsk regional administration, said doctors and patients were being held against their will at the Mariupol Regional Intensive Care Hospital, also known as Hospital No.
Sergei Orlov, deputy mayor of Mariupol, said Russian forces were 'destroying' the beleaguered Ukrainian city and that patients in a hospital were used as captives.
"There are a lot of fights on our streets, and the situation yesterday was terrible," he told CNN's Bianna Golodryga.
Evacuation corridors: US Under Secretary of State Wendy Sherman said there were reports of cars leaving Mariupol, noting that if this was in fact the start of an evacuation corridor, such a development would be a "step forward".
Negotiations between Russia and Ukraine: Talks between Russian and Ukrainian negotiators have ended for the day and will resume on Wednesday, according to Ukrainian negotiator Mykhailo Podoliak. He noted that the negotiation process has been "very difficult and viscous". "There are fundamental contradictions. But there is certainly room for compromise," he said in a tweet.
The Prime Ministers of Poland, Slovenia and the Czech Republic arrive in Ukraine: The Polish, Slovenian and Czech Prime Ministers arrived in kyiv on Tuesday by train to meet Zelensky and Ukrainian Prime Minister Denys Shmyhal.
The prime ministers arrived in the city on behalf of the EU council, Shmyal said on Twitterpraising the "courage of true friends".
Zelensky will address the US Congress on Wednesday: The President of Ukraine is preparing to deliver a virtual speech to the US Congress tomorrow. Zelensky's speech comes as Russia continues its unprovoked and deadly invasion of the country and Ukraine continues to press the United States for more aid as it retaliates.
US President Joe Biden will deliver his own speech on Wednesday after signing into law a massive aid package for Ukraine: Biden plans to detail U.S. aid to Ukraine in a speech on Wednesday, hours after Ukraine's president is expected to make new requests for aid in a speech to Congress, the White House said.
A massive spending bill was signed into law by Biden on Tuesday that will provide a one-time injection of $13.6 billion in military and humanitarian aid to Ukraine as it fights back against invading Russia.
Biden is also expected to travel to Europe next week for a special NATO meeting and show US support for Ukraine, the White House has confirmed. Biden will join NATO world leaders in person in Brussels, Belgium on Thursday, March 24.
Here is an overview of Russian-occupied areas in Ukraine: