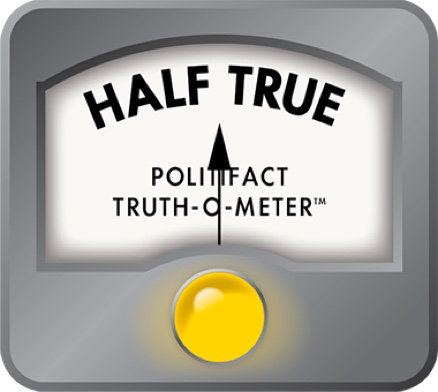 Fact Check: How Mississippi's Abortion Law Stacks Up To European Laws
[ad_1]
The Supreme Court heard oral arguments in the crucial Mississippi abortion law case on Dec. 1. With a conservative majority on the court, the future of Roe v. Wade, the rule that guided abortion laws for five decades, is in question.
Mississippi law makes most abortions illegal after 15 weeks, about two months earlier than the 24 weeks generally approved by the courts.
The law provides narrow exceptions for abortion beyond 15 weeks. It would be allowed to protect the life of the woman, or if there was "a serious risk of substantial and irreversible impairment of a major bodily function". Major bodily function includes "functions of the immune system, normal cell growth, and digestive, intestinal, bladder, neurological, cerebral, respiratory, circulatory, endocrine and reproductive functions."
In an interview with NBC's Meet the Press, Mississippi Governor Tate Reeves said the law is actually more permissive than laws across Europe.
"In Europe, 42 countries allow elective abortions," Reeves said on Nov. 28. "If Roe is rescinded and this 15-week ban in Mississippi is allowed to go into effect, Mississippi will still have a law in effect in which 39 countries – 39 of 42 – in Europe have more restrictive abortion laws. than what I think is one of the most conservative states in the United States. "
We decided to see if Reeves had his numbers right.
We have found that there are different ways of categorizing abortion laws in Europe. Reeves relied on an analysis, but that study ignored broad exceptions in the laws of countries that could extend the threshold for a legal abortion well beyond the 15-week mark. We counted at least 15 countries where this could happen, with potentially 11 more.
Reeves' numbers aren't as strong as he suggests.
Many legal nuances
Reeves' office told us their data came from a report from the Charlotte Lozier Institute, a center for abortion studies. Chief Justice John Roberts referred to it during oral argument.
The authors made it clear that they were not looking at all European nations, only those they saw as allowing elective abortions. Elective is the key word. As defined by the Lozier Institute, this means that a woman can request an abortion without fulfilling certain conditions.
This definition eliminated eight countries, including Great Britain (with a 24-week limit) and Finland (with a 12-20 week limit range), because, according to the authors, laws there required women to provide " some »justification for an abortion beyond being their choice.
But their definition of "as desired" may be subjective. In Britain, two healthcare professionals must agree that a woman's mental or physical health is in danger. In the Netherlands, a doctor has to agree with a woman's claim that she is facing a "situation of distress". The Lozier Institute study includes the Netherlands, but excludes Great Britain. (Northern Ireland, the other part of UK, is included.)
That said, within the group of countries they selected, the authors examined the threshold for legal abortions before considering specific factors, such as deep fetal abnormalities or factors affecting the woman.
"Of the 42 European countries that allow elective abortion, 39 countries limit elective abortion to 15 weeks gestation or earlier," the report said.
Compare that with an assessment by a group of European law professors in their amicus curiae brief on behalf of the woman's abortion clinic in the Mississippi case.
"Abortion is allowed until at least 22 weeks of pregnancy in 37 states and up to 18 to 21 weeks in three others, either on request, or for general socio-economic reasons, or on a criterion (.. .) which does not entail any risk to her life, "they wrote.
So which analysis is correct?
"As always, the devil is in the details," said Federico Fabbrini, professor of law at Dublin City University School of Law and Government.
For example, the vast majority of European countries – 27 by our calculations – have a base threshold of 12 weeks. But almost all of these countries have exceptions that extend the period, often up to 22 weeks.
What we do with these exceptions influences the comparison between Mississippi and Europe.
"At first glance, a 15-week limit is more permissive than a shorter limit," said Carter Snead, professor of law at the University of Notre Dame. "Some have suggested that European laws are more permissive because of their various exceptions, but this seems to me to be mere speculation, because in order to assess this claim we would need to compare how these exceptions are interpreted and applied with the exceptions. of Mississippi law. "
The Lozier Institute has adopted a narrow approach. Her study looked at part of the law in each country – the benchmark period in which elective abortions are legal. He did not take into account the reasons why this period might be extended or for how long.
"Examining abortion laws in their broader context reveals that comparable countries that on the face of it have shorter abortion access times than the United States, often offer greater flexibility. to get abortions once those limits are exceeded, with exceptions for a wide range of circumstances, "according to a brief by a group of law professors in favor of the abortion clinic.
Two of the most flexible terms are socio-economic conditions and women's mental health.
Using several databases – one from the United Nations, one from the World Health Organization, and a list from the Berkman Klein Center at Harvard – we reviewed the text of the laws of the countries reviewed by the Lozier Institute, sometimes using Google Translate. for our research.
The basic cut-off periods for legal abortion in these countries generally fall into three categories: 10 to 12 weeks gestation, 12 to 14 weeks, and 15 weeks or more.
In the most restrictive category, 10 to 12 weeks, are 24 countries, including Northern Ireland. But 15 of those countries have exceptions for specific economic or mental health reasons that extend the deadline to 15 weeks or more.
The intermediate category, 12 to 14 weeks, includes 15 countries. All but four of these countries have exceptions for maternal health. Their laws do not say whether health is limited to physical health or whether it extends to mental health – a more subjective criterion. But if the exceptions apply broadly, they can extend the legal period for an abortion to the 15 week point or beyond.
Only three countries – Iceland, the Netherlands and Sweden – are in the least restrictive group. (Britain is excluded, as we noted above.)
Martha Davis, a law professor at Northeastern University, has warned that the text of a law alone fails to paint a full picture of the availability of abortion in Europe. It also depends on how these laws are applied.
Based on the text, there could be as few as 13 countries with cutoff periods shorter than the Mississippi's 15 weeks. Depending on how the laws are enforced, however, there could be 24 in this group. The gap between what is written and what is practiced creates a gray area. Some studies suggest that Belgium offers more flexibility than it appears.
Even with these uncertainties, it's difficult to come to terms with Reeves' claim of 39 nations once laws with exceptions for life circumstances and a woman's mental well-being are factored in.
Advocates of abortion rights argue that this type of quantitative legal analysis has inherent limitations.
"More than just exceptions to the abortion limitation itself, a country's laws and policies on access to comprehensive sexuality education, modern contraception, paid parental leave, child care Paid children are also part of the context of abortion laws, "said Mindy Roseman, director of International Law Programs at Yale University.
Our decision
Reeves said that "39 of 42 (countries) in Europe have more restrictive abortion laws" than Mississippi.
It drew on a study that looked at only part of each country's law – the part that defines the initial period for elective abortions.
Taking into account the exceptions allowed by many countries, the actual number could be a third of what Reeves said.
But it is difficult to be precise with the count or the comparison. Abortion laws are open to interpretation, and our argument is that the study Reeves relied on is only one possible approach to making the comparison.
We rate this statement as half true.
[ad_2]