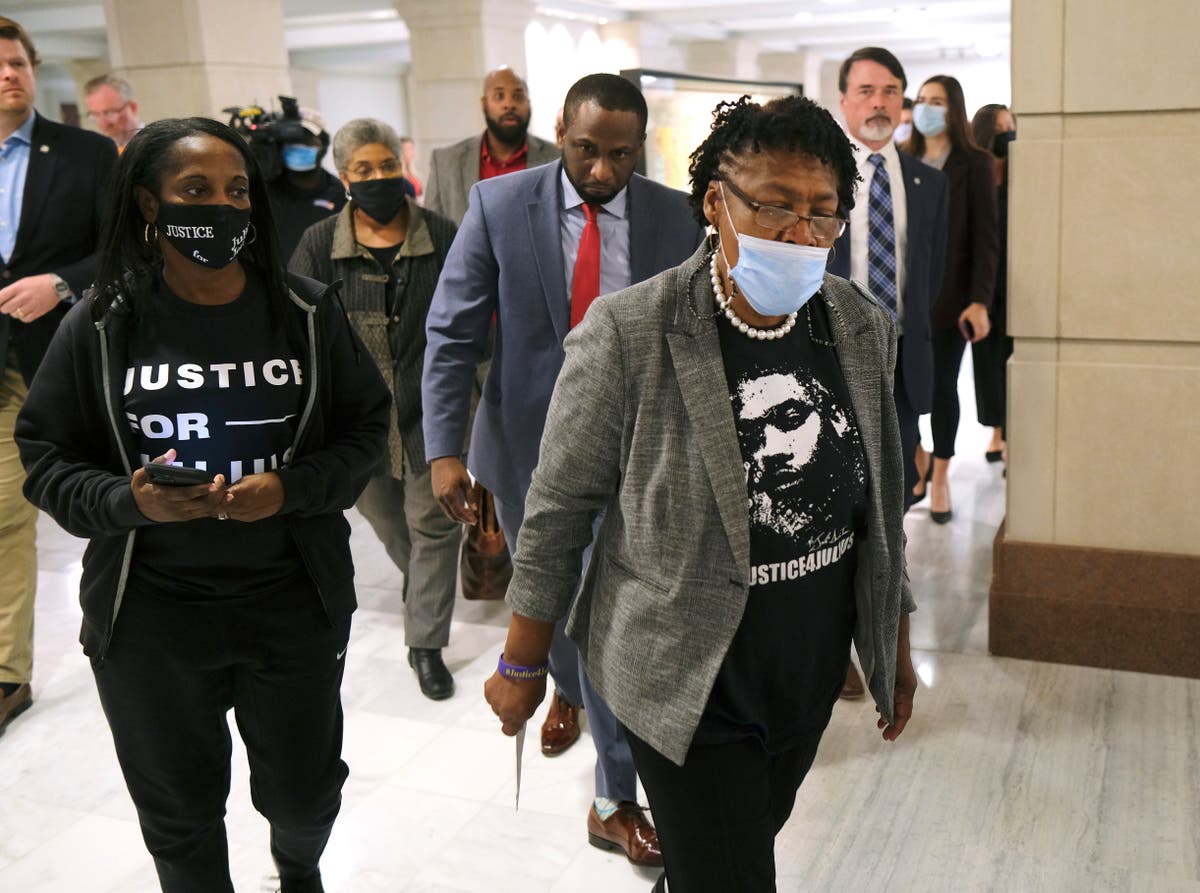 Execution of Julius Jones – update: quarterback Baker Mayfield joins appeals for mercy to Governor of Oklahoma
Julius Jones supporters rally outside Oklahoma governor's house ahead of execution
Julius Jones is due to be executed by the state of Oklahoma on Thursday.
Baker Mayfield, NFL Cleveland Browns quarterback, weighed in on Oklahoma's most high-profile execution in decades.
Mayfield, a University of Oklahoma Heisman Trophy winner, is among several top athletes and performers who have weighed in on Jones' case, urging Republican Gov. Kevin Stitt to commute his sentence and spare his life .
"Yeah, that's tough enough, to be honest with you," Mayfield said Wednesday, pausing and his eyes filling with tears. "It's not something easy to talk about. I had been trying to get the facts out and tell the truth for a while.
"It's a shame he got so far, 24 hours later. You know, with any luck, God can step in and handle it right and do the things that He has to do.
Mr Stitt also faces international pressure after the European Union Ambassador to the United States wrote a letter calling on him to stop the execution and a petition against the execution gathered more than 6 million signatures.
Jones, 41, has spent more than half of his life in prison after being indicted and convicted of murdering Paul Howell in a 1999 carjacking. He maintained he was innocent of the crime and had was trapped by his then friend and co-accused, who allegedly shot Mr. Howell.
1637246620
Alicia Keys joins calls to stop execution
Award-winning singer-songwriter Alicia Keys has also joined calls for Julius Jones for clemency.
In a Twitter post, she called on the Governor of Oklahoma to "stop the execution of Julius Jones."
Graig GraziosiNovember 18, 2021 2:43 PM
1637245840
Steve Kerr joins calls for Julius Jones for clemency
Steve Kerr has once again joined the calls for Julius Jones for clemency. In a video posted yesterday, the Golden State Warriors coach called on Governor Stitt to grant leniency in the matter.
"It can't happen in a civilized nation," Kerr said.
Thomas kingsleyNovember 18, 2021 2:30 PM
1637243411
Dontae Sharpe: man wrongly jailed for 24 years despite state witness admitting she lied is finally pardoned
Last week in North Carolina, a man was wrongfully jailed for 24 years and received full pardon from North Carolina Governor Roy Cooper.
Mr Sharpe was just 19 when he was arrested and charged with the 1994 murder of George Radcliffe, 33, in Greenville, North Carolina, in what prosecutors said was a drug case went wrong.
Her conviction was largely based on the testimony of a 15-year-old girl who said she saw Mr. Sharpe, who is black, shoot and kill Mr. Radcliffe, who was white.
The girl admitted at Mr. Sharpe's trial that she was paid $ 500 to come forward.
Our reporter Rachel Sharp has the full story below:
Thomas kingsleyNovember 18, 2021 1:50 PM
1637241040
ICYMI: Kim Kardashian launches passionate plea against death penalty ahead of planned execution of Julius Jones
Kim Kardashian was one of the most prominent celebrities supporting inmate Julius Jones and called on Oklahoma Governor Kevin Stitt to spare his life.
Jones is to be executed by lethal injection on Thursday. The 41-year-old inmate has spent more than half of his life in prison, after being convicted of murdering businessman Paul Howell in a car theft in 1999 when he was 19 – a crime he maintains he did not commit.
The Kardashians released a statement after Jones' mother was denied an 11th hour meeting with Oklahoma Governor Kevin Stitt in a final attempt to overturn her son's execution.
Our reporter Jade bremmer has the full report below:
Thomas kingsleyNovember 18, 2021 1:10 PM
1637238681
Watch: Baker Mayfield tears himself apart discussing the Julius Jones case
Baker Mayfield cried as he discussed the Julius Jones case as the death row inmate is to be executed unless Governor Kevin Stitt grants him clemency.
Thomas kingsleyNovember 18, 2021 12:31
1637234414
ICYMI: Video shows Oklahoma high school students exiting class
Video showed dozens of Oklahoma high school students stepping out of class to protest the execution of Julius Jones.
According to reports, there have been walkouts in six different jurisdictions in Oklahoma.
Thomas kingsleyNovember 18, 2021 11:20 AM
1637233315
Pressure continues to mount on Oklahoma state governor amid clemency decision
Pressure continues to mount on Governor Kevin Stitt as Julius Jones' family and activists await his decision on whether the death row inmate will be granted clemency.
Within hours of Julius Jones' execution, social media users continue to tweet the state governor calling on him to grant Julius Jones clemency.
Additionally, the governor's office has received thousands of calls from activists urging it to intervene before Jones is executed today.
Thomas kingsleyNovember 18, 2021 11:01 AM
1637231577
ICYMI: Explanation – doubts are raised as Julius Jones' execution approaches
The fate of Julius Jones – who has spent nearly 20 years on death row, even as numerous questions have raised doubts about his guilt – lies with Oklahoma Gov. Kevin Stitt
Stitt only has hours left to decide whether Jones lives or dies. He is due to receive a lethal injection on Thursday.
Jones, now 41, was convicted and sentenced to death for the shooting death in 1999 of Paul Howell, a businessman from an affluent Oklahoma City suburb. Jones has always maintained his innocence.
The full story below addresses the main arguments made by Jones 'lawyers and prosecutors' responses:
Thomas kingsleyNovember 18, 2021 10:32 AM
1637230387
German Ambassador to United States also joins calls for leniency
Emily Haber, the German Ambassador to the United States also joined Julius Jones' appeals for clemency yesterday.
In a Twitter post, she wrote: "As Germans, the abolition of the death penalty has been one of the lessons we have learned from our history. Today I join the call for clemency for #JuliusJones.
"I hope that all of the United States will join in the historic process of dropping the death penalty."
Thomas kingsleyNovember 18, 2021 10:13 AM
1637227240
Julius Jones 'lost visitation and phone privileges' according to reports
Julius Jones lost his visitation and telephone privileges in the run-up to his execution, according to reports.
Oklahoma reporter Abigail Ogle wrote in a Twitter post: "Julius Jones has lost his visiting and phone privileges. I just spoke to lawyer Kelli Masters who spoke to him last night. She's one of the last people to speak to Jones unless the Governor steps in.
Ms Ogle shared transcripts of a conversation with Jones' attorney.
In a screenshot Ms Masters said: "I think the most difficult thing for him is the uncertainty. Like everyone else, we are waiting to see if there will be an announcement or if it will play out.
"He just wanted to know. He wanted to know what to prepare for.
Thomas kingsleyNovember 18, 2021 09:20