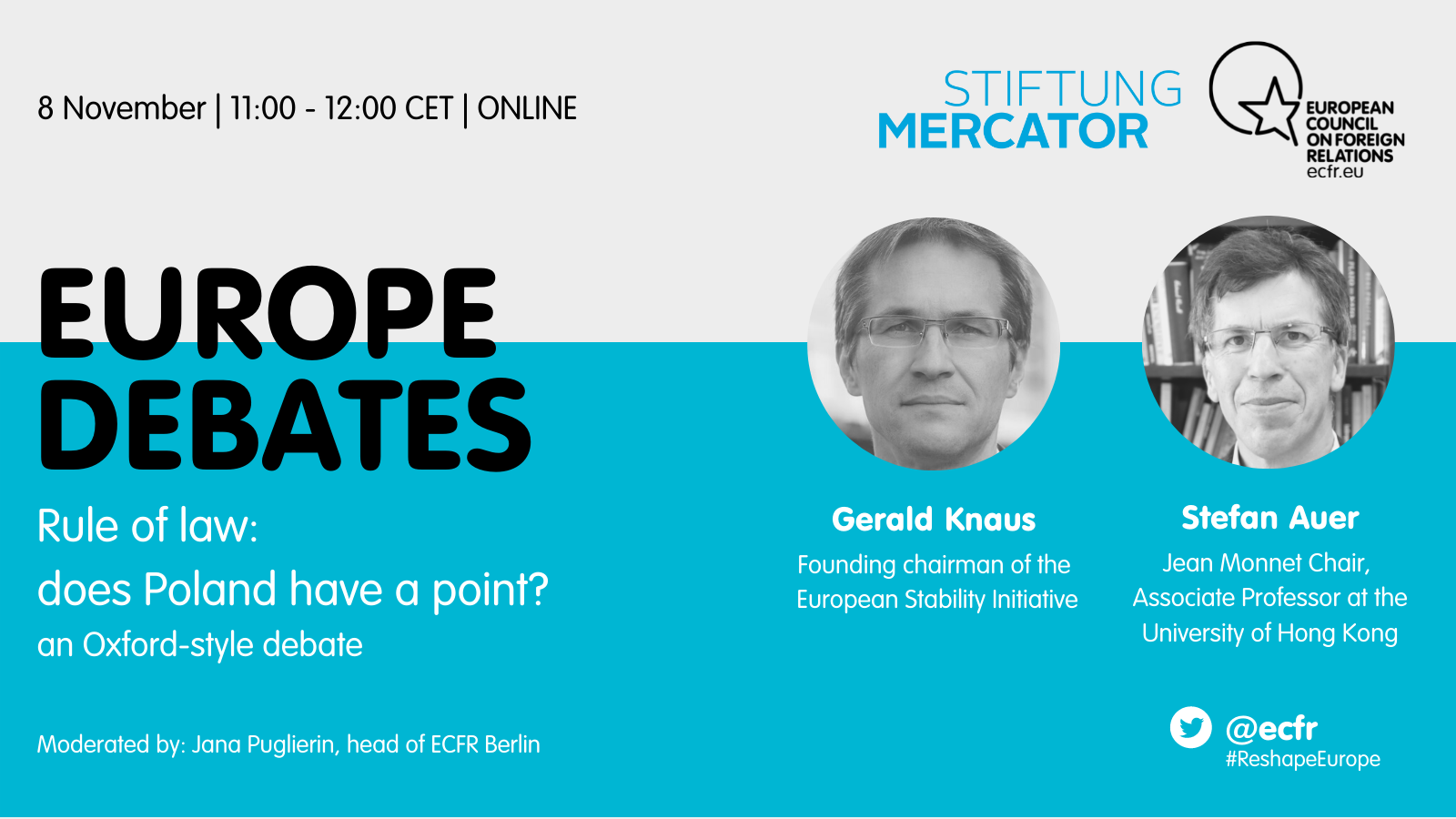 European debates | Rule of law: is Poland right? – European Council on Foreign Relations
Guests
Stefan Auer, Jean Monnet Chair and Associate Professor at the University of Hong Kong
Gerald Knaus, founding president of the European Stability Initiative
Chaired by
Jana Puglierin, Head of the Berlin Bureau and Senior Policy Researcher, ECFR
In early October, the Polish Constitutional Court openly challenged the legal order of the European Union, ruling that the Polish constitution took precedence over fundamental parts of EU law. Experts and politicians across Europe have warned that this poses a major challenge for the EU. Yet they differ in their assessment of why this is the case.
For some – including the Polish Prime Minister, Mateusz Morawiecki – it is above all a question of a delimitation of competences between the Member States and the EU institutions. From their perspective, the power of Brussels has extended beyond previously agreed limits. It is therefore a question of defending the sovereignty of the Member States against the excesses of the EU.
For others, these developments are so worrying as they have led to the elimination of an independent judiciary in one of the member states, thus threatening the erosion of the EU legal order more broadly. A country with a government obedient justice system can no longer be considered a democracy, they argue, and there should be no room for undemocratic countries in the EU. From this point of view, the decision of the country's Constitutional Court is largely a smokescreen, aimed at distracting from the real problem; it is also a useful pretext for not complying with some of the decisions of the European Court of Justice which are the most problematic for the Polish government of law and justice (PiS).
In Poland, as well as across the EU, we are witnessing a battle between these two narratives. Depending on which of them prevails, EU countries and institutions may choose to react more or less firmly to the Polish challenge – with lasting consequences for the future shape of the EU.
This event is part of ECFR's Re: shape Global Europe project funded by the Stiftung Mercator.
Online event. Registration required. register here