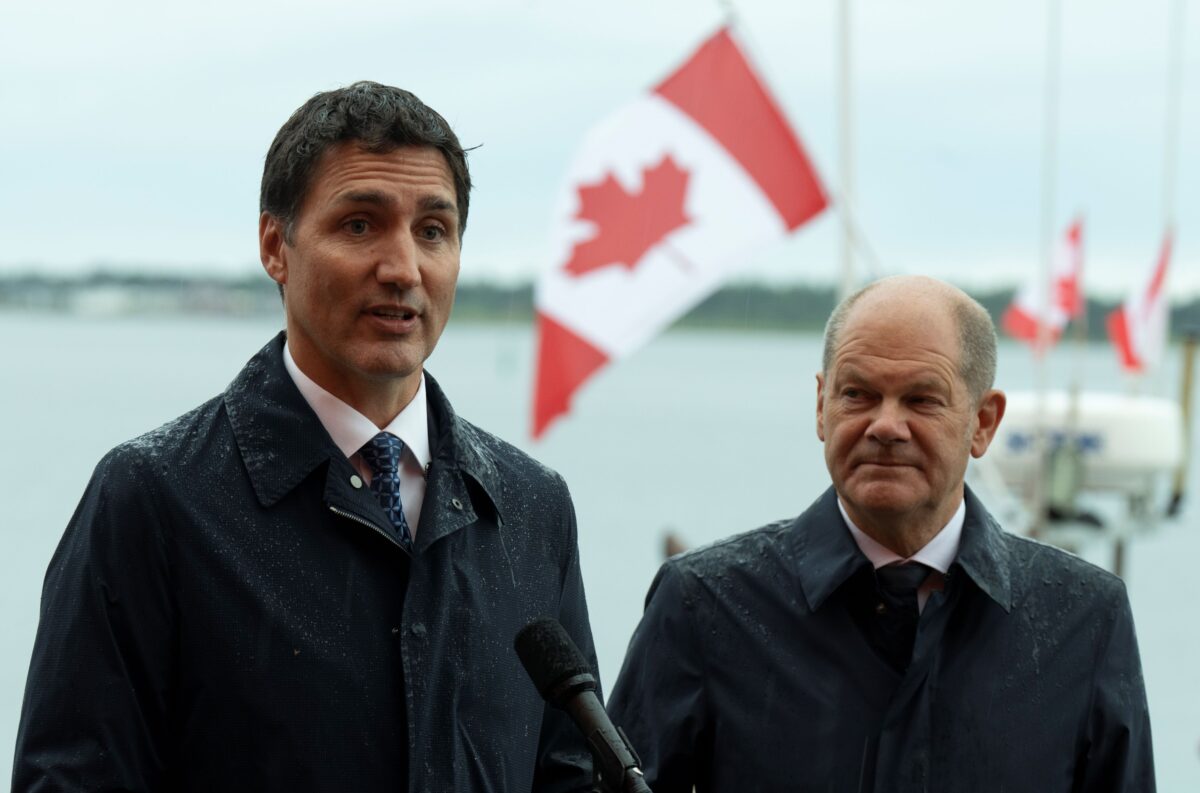 Canadian natural gas is the solution to Europe's energy needs, say industry leaders as Trudeau questions the business case
Industry experts say Canadian natural gas has a role to play in Germany's energy crisis, as Prime Minister Justin Trudeau questions whether there's a business case for exporting.
During a joint press conference with German Chancellor Olaf Scholz on August 22, Trudeau said the government was open to relaxing regulatory requirements for projects that would facilitate the export of Canadian natural gas to Europe, while wondering if there is a business case for such investments.
Questerre Energy Corporation President Michael Binnion says Germany has moved "heaven and earth" to prepare its infrastructure to receive natural gas and there's no reason Canada can't move forward at the same pace.
"There is no better place geographically, or you would think geopolitically, to ship gas to Europe than eastern Canada and there are discovered gas reserves," said Binnion, who is also a director. executive of the Modern Miracle Network, an oil and gas advocacy group. .
"If we really believe there is a crisis, there is certainly no reason other than political reasons why Canada cannot emulate what Germany has done."
Binnion dismisses any skepticism that there is a business case for shipping Canadian natural gas to Europe, as he says there are already examples of successful models.
Without government interference, Utica Resources Inc. in Quebec could ship liquefied natural gas (LNG) within one to two years, Binnion said.
However, says Binnion, shipping LNG from Quebec to Germany could "never" happen in the current regulatory environment.
This year, the Quebec government adopted a law prohibiting oil and gas development on its territory. Utica has launched a lawsuit challenging the ban.
Earlier this year, the federal government also rejected a major LNG project in Saguenay, Quebec, based on its environmental impact assessment.
"While the political reasons are different, Russian gas doesn't come to Europe for political reasons and Canadian gas doesn't come to you for political reasons either," Binnion said.
Richard Masson, an energy executive and executive member of the University of Calgary's School of Public Policy, said he was surprised to hear Trudeau talk about easing regulatory processes given that the government has passed Bill C-69, which overhauls federal environmental assessment. process for major construction projects.
The Liberal government implemented the legislation in 2019, and no major projects have been approved under the new regulatory structure, Masson said.
"I'm sure they would be very reluctant to relax the regulations before the regulations have even been actually used or tried," he told The Epoch Times. "So I wouldn't believe it much at this point as a viable option."
Masson says a practical response to meeting Europe's energy needs is for Canada to ship LNG to Asia from the west coast, so Asian countries don't need to buy natural gas from the Middle. East, thus releasing the resource for Europe.
"It's probably a much less risky and more economical way for Canada to help Europe meet its short-term energy needs," he said.