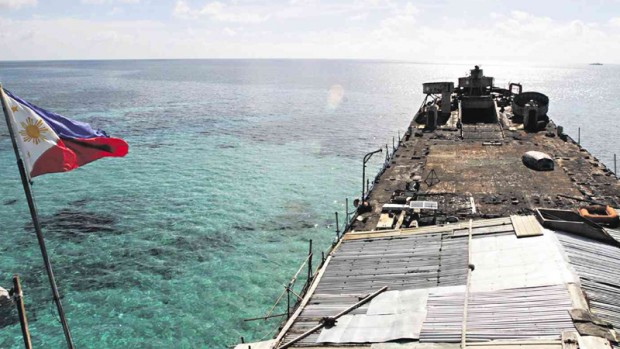 After Ayungin Shoal incident, EU emphasizes opposition to actions endangering peace in SCS
MANILA, Philippines – The European Union (EU) has expressed "strong opposition" to "any unilateral action" that would endanger peace, security and stability in the South China Sea after Chinese Coast Guard ships "blocked and water cannon" Philippine supply boats at Ayungin Banc (Second Thomas Bank).
"This episode follows other unilateral actions by ships of the People's Republic of China in the South China Sea in recent months," EU spokeswoman Nabila Massrali said on Monday.
"The European Union reiterates its firm opposition to any unilateral action endangering peace, security and stability in the region and the rules-based international order," she added.
The EU, she added, "stresses the importance for all parties to respect the freedom of navigation and overflight in the South China Sea".
The EU then urged all parties concerned to resolve disputes by "peaceful means" in accordance with international law, in particular the United Nations Convention on the Law of the Sea (UNCLOS), including its dispute settlement mechanisms. .
"In this context, the European Union recalls the arbitration award rendered under UNCLOS on July 12, 2016, which concluded that Second Thomas Shoal is in the exclusive economic zone and the continental shelf of the Philippines," Massrali added. .
READ: PH Wins South China Sea Arbitration
The EU also expressed support for the efforts of Southeast Asian countries towards a code of conduct in the South China Sea, which "should be effective, substantive and legally binding, and not overwhelming. prejudice to the interests of third parties ".
READ: PH highlights Unclos membership at Asean Maritime Forum
Foreign Secretary Teodoro Locsin Jr. said earlier that he spoke to Chinese Ambassador Huang Xilian and the Foreign Ministry in Beijing to protest and condemn the Ayungin Shoal incident, reminding them that a public ship is covered by the mutual defense treaty between Manila and Washington.
China, for its part, said its coast guard performs "official functions in accordance with the law."
READ: China says it governs EEZ PH, says Philippine boats have been 'introduced'
The Philippines will resume their missions to supply Philippine troops aboard the BRP Sierra Madre in the region, according to Defense Secretary Delfin Lorenzana.
Lorenzana said Huang told him that "the Chinese would not interfere" with resupply missions.
I
Subscribe to our national newsletter
Read more
Don't miss the latest news and information.
Subscribe to INQUIRER PLUS to access The Philippine Daily Inquirer and over 70 other titles, share up to 5 gadgets, listen to the news, download from 4 a.m. and share articles on social media. Call 896 6000.
For comments, complaints or inquiries, contact us.